2020:
Together We Achieve More
In an uncertain and adverse scenario, we found a way to maintain our operations. Furthermore, we also incorporated technological and innovative elements to optimize them, which allowed us to continue our steady and determined progress to comply with our 2020-2025 Strategic Plan.
In 2020, we embodied the meaning of the phrase Together We Achieve More, and along with our purpose, To enrich people's lives, these two ideas represented this year. We had unity and hard and intense coordinated work, from wherever we were, in offices and branches or in remote schemes with a single target, to be closer to our clients, completely fulfilling the commitment to offer tailor-made financial solutions.
One of the incorporated strategies consisted of further driving closeness to our clients. We even anticipated their financial needs, for credit, investment and,restructuring if necessary. This turned out to be a very successful strategy, since increasing the past-due portfolio was avoided.
Our credit offers, for leasing, simple and bridge loans, allowed our clients to obtain the necessary liquidity for their operations. We made improvements to the provisions that were incorporated into the Electronic Bank Account Credit (CCCE, for its initials in Spanish) and regarding Corporate Financing, we achieved very successful debt placements, which were a milestone in the markets for being issued during the pandemic. The mortgage product B×+ Casa stood out in the market for offering new competitive rates.
Investment options took special relevance through Derivatives products and their automated execution, we offered faster and more efficient sophisticated solutions to support clients' assets and manage the volatility that occurred during the year.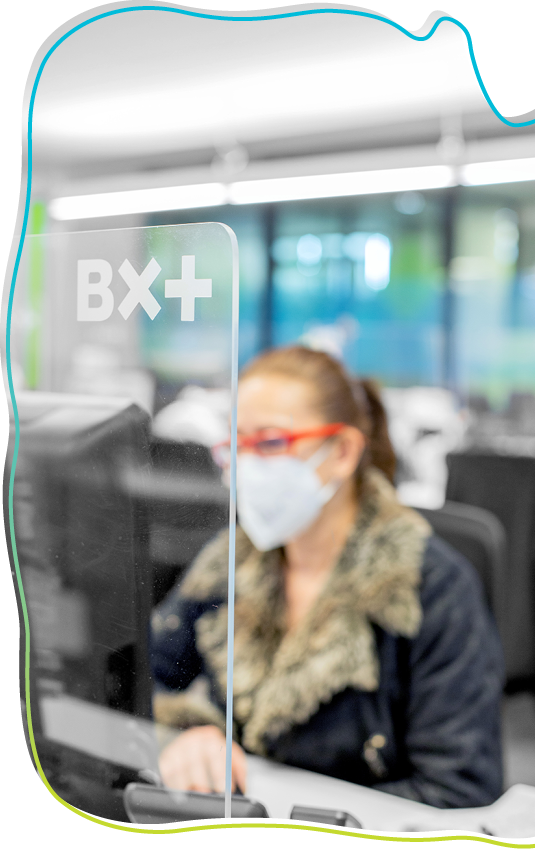 Within the composition of investors' portfolios, the B×+ CAP Fondo de Inversión had a very significant performance, as it is an instrument with a balanced mix; and Inversión Patrimonial B×+ was positioned by the investment and insurance components that comprise it.
In accordance with its inception, another fundamental strategy consisted in the continuous incorporation of new features to our digital channels, such as the app for smartphones B×+ Móvil or B×+ Online Banking, which allow our clients to have greater control of their finances so they choose to carry out their operations by these means.
Our corporate reputation continues to increasingly position and consolidate itself in the economic, financial and business sources due to the quality of our economic and stock market analyzes. In 2020, we promoted the dissemination of Financial Culture contents; hence, we seek to become a benchmark in the industry. We became one of the first financial institutions to establish meetings with journalists through virtual channels, which allowed us to ascertain greater contact with the media. We opened more spaces in television, radio, press and our magazine Tendencias B×+ celebrated its first-year anniversary.
During 2020, through the Tendencias B×+ webinars, we shared with our clients several current topics that allowed them to have the most relevant information for better decision-making.
As each year, we renewed our commitment to be our clients' strategic allies and assist them at key moments with tailor-made financial solutions.